All-Time Best TV Series and Netflix Shows
We all have that one phase where we get so bored that we do nothing and just want to pass the time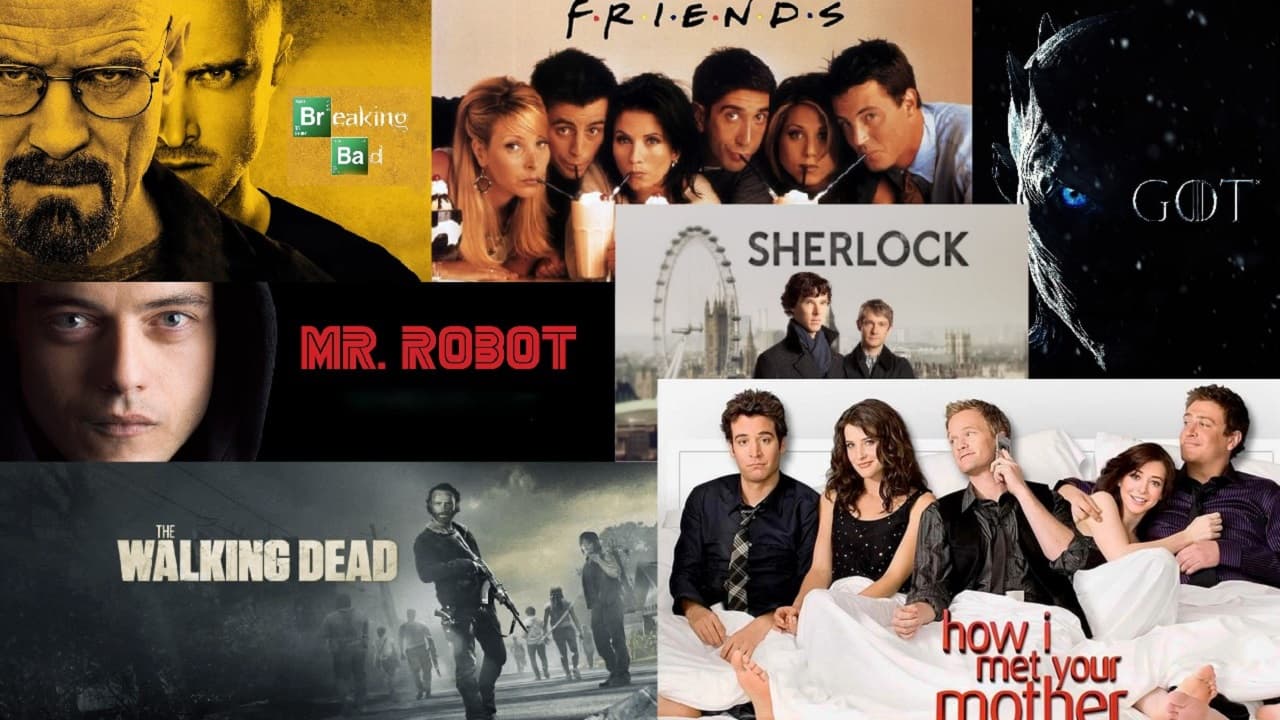 We all have that one phase where we get so bored that we do nothing and want to pass the time. This is the phase of early adulthood (between 18 to 21) during summer vacations or holidays.
We are often misled towards drugs or other bad habits that may ruin our lives during this period. Instead of making our lives more productive, we tend to waste this invaluable phase. We do this because we are lazy; all humans are between these ages.
You can either learn some new skill sets, read some novels, take an internship or waste this time passing the time. But if you are going to give this time being lazy, I suggest you do it right by watching some of the series I am about to mention here.
While series are the best passive-entertainment material, you can also learn many things from them, which may be helpful in your life someday, and even if it doesn't, it may help you improve your vocabulary.
I started watching these series because I wanted to learn some fancy words I could use amongst my friends to show off my English.
But when I finished watching a couple of series, it improved my vocabulary and corrected some of the pronunciations I used to pronounce wrong, but it also made me fluent in English.
So apart from providing passive entertainment, you will improve your vocabulary. That's something, right?
If I have given you enough reasons to waste… ahem… utilize your time, let's begin with the top list of the Best TV Series and Netflix Shows.
1. Breaking Bad
IMDb Ratings: 9.5/10 (946,452)
Cast: Bryan Cranston, Aaron Paul, Anna Gunn.
Storyline: The story of a high school chemistry teacher, Walter White, and his school drop-out student, Jesse Pinkman. When Walter is diagnosed with inoperable lung cancer, he manufactures and sells methamphetamine to secure his family's future.
Is there anything better than the genius work done by the Breaking Bad crew? No. It is by far the best tv series I have ever seen. Walter White, a Nobel prize winner, one of the best chemistry experts, and a high-school chemistry teacher, gets diagnosed with cancer. He realizes he is going to die no matter the treatment he gets. Walter starts to manufacture and sell meth with his high-school drop-out student Jesse to secure his families future. As the story evolves, he begins to like doing meth business.
The writing is excellent; it is by far the greatest asset in the making of Breaking Bad. It is written beautifully and with complexity, and at the same time, it is represented in such a way that makes its viewers fall in love with it. It is entertaining to watch how the human consciousness indulges when you choose the wrong path, no matter how noble he is. Season 5 of this best tv series unravels the most rated and mind-blowing series of events you can watch on smaller screens.
2. Death Note
IMDb Ratings: 9.0/10 (123,848)
Cast: Mamoru Miyano, Brad Swaile, Vincent Tong.
Storyline: An intelligent high school student goes on a secret crusade to eliminate criminals from the world after discovering a notebook capable of killing anyone whose name is written.
Japanese anime series has gotten very popular over the years, and the reason behind it is their genius work. Death Note is one such example of their genius work. It is a story of a brilliant school student who is the son of one of the most prominent police officers in the city and is obsessed with justice. One day he finds a notebook capable of killing anyone whose name is written in it. He thinks this is his chance to make everything right that is wrong with this world.
He covers his tracks well on his crusade to eliminate criminals from the world. But, when the killings go out of control, a private investigator who is as intelligent as he is, tries to find and stop him. The story is very well written and executed nicely. Death Note is thrilling and entertaining to watch, especially how human consciousness can be subpar when the power gets in their hands. The genius expertise of the writers and screen players made it one of the best tv series of all time.
3. Game of Thrones
IMDb Ratings: 9.5/10 (1,193,682)
Cast: Emilia Clarke, Peter Dinklage, Kit Harington, Lena Headey, Sophie Turner, Maisie Williams, Nikolaj Coster-Waldau.
Storyline: Several Powerful families fight for the control of the Seven Kingdoms in the mythical land of Westeros. Meanwhile, the ancient army of the dead rise against them all to threaten their existence.
With millions of fans and viewership worldwide and a billion dollars per season revenue, I doubt anyone can question the authority of Game of Thrones in the list of best tv shows. It is based on the novel Game of Thrones, written by the legendary R. R. Martin. The story starts with the death of the king of seven kingdoms; as he dies, several powerful families try to take control of the land of Westeros.
If you have never watched Game of Thrones but planning to do so, let me give some friendly advice first – "Don't get too attached to any of the characters." One of the best things that make watching Game of Thrones so exciting is that you cannot predict the next thing that will happen, no matter how genius you are. Game of Thrones is the most-watched show, with over a million dollars in budget per episode. The story is well-written and executed with a unique set of representations.
4. Sherlock
IMDb Ratings: 9.2/10 (556,596)
Cast: Benedict Cumberbatch, Martin Freeman, Una Stubbs.
Storyline: A modern update finds the famous sleuth and his doctor partner solving crime in 21st-century London.
What will happen if the famous Sherlock Holmes appears in the 21st century? If you want to know, then you must watch this series. Sherlock is based on the original work of Sir Arthur Conan Doyle, just renovated to match the environment of the 21st century. It is a 4 season series with three episodes in each, with each episode nearly an hour and a half long; in other words, they matched the time frame of most Hollywood films.
Benedict Cumberbatch did an excellent job portraying the great Sherlock Holmes with Martin Freeman in the role of Dr. Watson. If you are a fan of detective films and tv shows, this should be your top choice. The 2nd season digs deeper into the psychological fault lines of the Holmes family, excellently done by the incredible Benedict Cumberbatch; In contrast, although its last season got somewhat low ratings, it still managed to live up to the reputation of Sherlock Holmes.
5. How I Met Your Mother
IMDb Ratings: 8.4/10 (470,450)
Cast: Josh Radnor, Jason Segel, Cobie Smulders, Neil Patrick Harris, Alyson Hannigan.
Storyline: A father recounts to his children, through a series of flashbacks, the journey he and his four best friends took leading up to him meeting their mother.
It is another masterpiece that teaches us values about life and friendship. It is the story of 5 friends living in New York. While two of them are engaged to one another, one is a wealthy playboy, one is only focused on her career, and the last one is pretty romantic and in search of "the one." They go through many events as they grow old, learning important lessons about friendship, life, and love.
While the series got many fans over the years, the last season wasn't particularly able to win the hearts of its viewers. In my personal opinion, I think they wrapped up this project pretty quickly; they could have made another one and fit the story neatly. Otherwise, it is an excellent series with excellent narrative and execution, making it entertaining.
6. Friends
IMDb Ratings: 9.0/10 (513,078)
Cast: Jennifer Aniston, Courteney Cox, Lisa Kudrow, Matt LeBlanc, David Schwimmer, Matthew Perry.
Storyline: The story revolves around six friends living in New York. Over ten years, they go through family troubles, romances, laughs, fights, and surprises, learning what it means to be a friend.
With over 50 million viewers of the season 10 finale and averaged 2 million advertising rates for 30 seconds ads, Friends is one of the most popular tv shows worldwide. It started in 1994 and lasted ten seasons until 2004. It was one of the most popular tv shows in the 90s. It is the story of six friends in their 20s, living in the heart of New York. While they grow up, they go through a series of events like – fights, heartbreaks, romances, troubles, surprises, and love, learning what friendship means.
Although friends completed almost 13 years ago, it still has many fans following, and millions worldwide still watch it. Many people overlook this show for the 2nd and even the 3rd time. If you want my opinion, it is one of the best tv series in the world. I have watched it over three times, and I never got bored; that is the beauty of this show.
7. Rick and Morty
IMDb Ratings: 9.3/10 139,652
Cast: Justin Roiland, Chris Parnell, Spencer Grammer, Sarah Chalke.
Storyline: An animated series that exploits the infinite adventures of Rick, a genius alcoholic and careless scientist, with his grandson Morty, a 14-year-old anxious boy who is not so bright but always tries to lead his grandfather with his moral compass.
First of all, let me tell you what I thought before watching this show – "after watching the poster and some trailers and ads, I thought this looks weird; there is no way anybody is gonna watch this weird shit!". But I have to tell you, this show is charming. Now I know it is strange to say this about a show that looks this weird, but you have to watch it before making up your mind.
Rick and Morty got me on the hook from the very first episode. Indeed it may not be the funniest show, but its charm and animation will be significant factors in reeling you to watch, trust me. Rick is Morty's grandfather, a genius but alcoholic obsessed with science, and Morty, Rick's grandson, is constantly dragged into Rick's experiments and endless adventures.
8. Prison Break
IMDb Ratings: 8.5/10 (352,131)
Cast: Dominic Purcell, Wentworth Miller, Amaury Nolasco, Sarah Wayne Callies.
Storyline: Due to a political conspiracy, an innocent man is sent to death row, and his only hope is his brother, who makes it his mission to deliberately get himself sent to the same prison to break the both of them out from the inside.
If you like watching movies involving some genius guy with extraordinary cleverness, Prison Break is for you. It is a story of breaking out of prison, but it's not simple. Due to political conspiracy, an innocent man was sent to death row. To save him, his brother gets himself in the same prison he helped design to break them out.
The story writing is excellent, and the execution is also great. Dominic Purcell and Wentworth Miller did a good job portraying Lincon and Michael. It is a 4 season series with another one this year. Although the first four seasons were excellent, I am not mainly a fan of season 5. The story plot and execution of season 5 didn't feel right. If Prison Break is on your watch list, I suggest you ignore the last season; it may change your opinion about such a good show.
9. The Walking Dead
IMDb Ratings: 8.5/10 (702,713)
Cast: Andrew Lincoln, Norman Reedus, Melissa McBride, Chandler Riggs, Lauren Cohan.
Storyline: A sheriff, after getting shot, woke up in the hospital finding the world he knew was gone in the zombie apocalypse. Now, he must survive with his family from zombies, also called the "Walking Dead," with other survivors' help and lead them in the right direction.
What would you do if you woke up one day and found the world was gone in a zombie apocalypse? The Walking Dead is based on the famous comic book named "The Walking Dead." The story is about a police officer who leads many survivors to protect them from zombies or the so-called "walking dead."
When I first watched the episode of The Walking Dead on tv back in 2010, I liked it, but I also thought – "zombie apocalypse on tv? Who is gonna watch it?". But, as the series started to travel further, I began to like it, and so did millions of other people. The Walking Dead has earned immense popularity over the years and is one the top most popular tv series currently running.
The presentation and execution are also top-of-the-line. The VFX, zombie makeup, and cruelness are outstanding, and never seen anything like it in any series or movie. Maybe that is why it is one of the all-time best tv series.
10. Gotham
IMDb Ratings: 7.9/10 (148,992)
Cast: Ben McKenzie, Jada Pinkett Smith, Donal Logue, David Mazouz.
Storyline: The story behind Detective James Gordon's rise to prominence in Gotham City in the years before Batman's arrival.
Do you want to see how Batman was as a child and Detective James Gordan as a young man? Watch Gotham. Many people might debate whether or not Gotham deserves to be on this list because of its low ratings and all, but come on; it's Batman! As I happen to be a huge Batman fan, and this list is based on my opinion, Gotham is must-watch series considering my opinion.
As a child, Batman witnesses his parent's death in front of his eye and becomes obsessed with justice and saving his city. Gotham shows the growth of Bruce Wayne towards becoming Batman and Detective James Gordan's rise to prominence in the city of Gotham. The series is pretty popular due to the enormous fan following of Batman. The story, the screenplay, and the execution are pretty good, making Gotham a must-watch tv show of this decade.
11. Mr. Robot
IMDb Ratings: 8.6/10 (226,122)
Cast: Rami Malek, Carly Chaikin, Portia Doubleday, Portia Doubleday, Christian Slater.
Storyline: Elliot Alderson, a cyber security engineer suffering from depression, works at security firms during the day and hacks felons at night. Panic strikes him when an anarchist hires him to hack the company he works for, which causes his father's death.
Mr. Robot's story revolves around Elliot Alderson, a cyber security engineer addicted to drugs but a brilliant-minded hacker who has bipolar disorder. As a child, he suffers his father's death due to some Evil corporation. An anarchist hires him to hack the same company that caused the end of his father.
The story writing and plot are excellent. Rami Malek, who plays Elliot in the series, did a fantastic job acting; he even got Grammy for his superb acting in Mr. Robot. I see no other man better suited to play Elliot in Mr. Robot. This should be your first choice if you love thrillers, hacking, and thoughtful planning in movies or series.
12. House of Cards
IMDb Ratings: 9.0/10 (370,095 )
Cast: Kevin Spacey, Michel Gill, Robin Wright.
Storyline: Frank Underwood, a congressman appointed as secretary of state. Along with his wife, he sets on a quest to gain the most incredible power in the world – the President of the United States and crush those who get in his way.
The story of a congressman, Frank Underwood, appointed as a secretary of state, and his wife, set on a quest to achieve the most incredible power in the world – to become President of the United States. He is ruthless and cold and doesn't hesitate to crush anyone who stands in his way. As he climbs the ladder, he faces many problems and people who stand in his way of achieving the most incredible power in the world.
Some might think this series is about politics and its deep dark secrets – it's about politics, so it must be tedious; that's what I thought before watching this show. But when I started watching it, I noticed this series was perfect. I liked it; it is entertaining, the story is fascinating, and Kevin Spacey did an excellent job portraying the ruthless and cold Frank Underwood.
13. Suits
IMDb Ratings: 8.7/10 (261,024)
Cast: Gabriel Macht, Patrick J. Adams, Meghan Markle.
Storyline: On the run from a drug deal gone bad, Mike Ross, a brilliant college-dropout, finds himself a job working with Harvey Specter, one of New York City's best lawyers.
It is the story of Mike Ross (Patrik J Adams), a brilliant college dropout who remembers everything he has ever read, and Harvey (Gabriel Macht), one of New York city's best lawyers. Looking for competent associates like him, Harvey hires Mike as his new associate. Still, due to his firm's policy of only hiring associates from Harvard, Mike has to pretend he went to Harvard.
The show's tone is pretty light, though it has many snappy dialogues, catchy quotes, and moral ambiguity. In my personal opinion, I think it is a great show, the writing is excellent, and the cast did a great job on screen. So, it must be on your watchlist.
14. Stranger Things
IMDb Ratings: 8.9/10 (326,875)
Cast: Noah Schnapp, Joe Keery, Natalia Dyer, Caleb McLaughlin, Finn Wolfhard.
Storyline: The story takes place in a small Indiana town in 1983, where Joyce Byers and her 12-year-old son live. When Will, Joyce's son, goes missing, she starts to investigate along with local authorities. As they search for answers, Will's friends try to find him. They unravel a unique set of mysteries involving supernatural forces, secret government experiments, and an unusual little girl.
Do you love to watch movies and tv shows that involve thrillers, creepy things, and sci-fi terminologies? Stranger Things falls under such a category. It is a story of 4 school kids, and one of them goes missing. As they search for him, they unravel a set of mysteries involving mysterious supernatural forces, secret government experiments, and an unusual little girl with magical abilities.
My overall impression of this series is pretty good. This series is aimed at a family audience, but it may not be exceptionally comforting for younger children. I liked the characters in the series, especially the younger kids. If you are interested in such a creepy sci-fi horror thriller, you should head to Netflix and watch it.
15. The Vampire Diaries
IMDb Ratings: 7.8/10 (238,357)
Cast: Nina Dobrev, Paul Wesley, Ian Somerhalder, Kat Graham.
Storyline: The vampire brothers Damon and Stefan Salvatore live everyday lives, hiding their bloodthirsty condition and leaving before noticing their non-aging. They are back in the town where they first became vampires and where Elena lives. On her first day at school, she meets Stefan and feels connected with him. Stefan falls in love with her, but she resembles Salvatore's brother's old love, Katherine.
If you like watching Vampire movies with a love twist, you want The Vampire Diaries. It is an excellent show with lots of drama, action, and a good storyline. In my opinion, it is much better than Twilight. If you haven't watched it yet, I encourage you to go and watch it; I promise you will most definitely like it.
But allow me to warn you first; the first few episodes might feel sluggish, so don't make up your mind immediately; give it a chance; after some episodes, you will like it. It might not be as good as the book series, but I think it beats Twilight.
16. Daredevil
IMDb Ratings: 8.7/10 (260,902)
Cast: Charlie Cox, Deborah Ann Woll, Elden Henson.
Storyline: Blinded in a car accident as a child, Matt Murdock, an attorney at law, fights crime in a day as a lawyer and uses his superhumanly enhanced senses to fight criminals in the streets of New York at night.
Matt Murdock was blinded by radioactive waste in an accident while trying to save a stranger as a child. Now, he uses his other heightened senses to fight crime in his city. Daredevil is based on Marvel comic Daredevil; as a child, I read several Daredevil comics but was never a huge fan of Daredevil.
After watching this series, I must say it was a great experience. Charlie Cox did an excellent job portraying Daredevil and, even better, showing Matt Murdock. The combat scenes are directed excellently, and his suit is also pretty good. This fantastic series proves real potential for such stories to tell on smaller screens.
17. Westworld
IMDb Ratings: 9.0/10 (202,471)
Cast: Evan Rachel Wood, James Marsden, Jeffrey Wright, Anthony Hopkins, Ed Harris.
Storyline: Westworld is a futuristic amusement park made for rich people that allows its users to live their most primal fantasies with the robot hosts. No matter how noble/depraved a human being is, watch their appetite indulging when there is no consequence. However, the park becomes chaotic when robots grow an artificial consciousness similar to, yet diverge from, human consciousness.
What will you do if you can fulfill your most primal fantasies, no matter how good or dark, without consequences? Hell Yeah! I will do it without any second thoughts. Westworld is such a futuristic park where people can go and fulfill their fantasies with robot hosts, and of course, no matter what you do, there will be no consequences.
First of all, I am a fan of sci-fi themes, and I think the idea of such a unique story is excellent. The production team did a fantastic job turning it into the screen. The story is vivid and intriguing, the visuals are beautiful, and the acting is incredible. It is a must-watch modern-day classic.
18. Vikings
IMDb Ratings: 8.7/10 (250,772)
Cast: Travis Fimmel, Gustaf Skarsgård, Katheryn Winnick, Alexander Ludwig.
Storyline: The story of Ragnar Lothbrok, the first Viking to rise to the pages of history from Norse legend. As he rises to become a fearless warrior and king of the Viking tribe, he embodies his ancient traditions and devotion to the gods.
The series takes us back to the era of Vikings, the world of Norseman and Oarsman. The story of Ragnar Lothbrok, the first Norseman to appear on the pages of history, and his Viking tribe, known to be the most fearless, ruthless, and skilled worriers.
The series has been very well-written and charming. The most intriguing thing about this series is its epic battle scenes; they are outstanding and well-executed. Travis Fimmel did a good job portraying Ragnar; it suits him. A physical and intense character with that spice of humor is the Viking trademark of the sagas.
Many people have been comparing it to Game of Thrones, but in my opinion, Viking has its own thing going on. It's way simpler with a more straightforward approach.
19. Homeland
IMDb Ratings: 8.4/10 (252,694)
Cast: Claire Danes, Mandy Patinkin, Damian Lewis, Rupert Friend.
Storyline: Carry Mathison, a bipolar CIA officer, becomes convinced Al-Quaeda has turned an American prisoner of war. While Nicholas Broady, who has been in captivity since 2003, gets rescued and re-enters the country as a war hero, Carry suspects he is the one.
If you love to watch gripping thrillers with incredible characters, you must protect Homeland. This show with an excellent and talented cast that makes your time watching it much more worthwhile. Claire Denes plays an intense C.I.A. officer who is unstable but believes that an American prisoner of war has been turned by Al-Qaeda, who is a recently recovered P.O.W. (Demian Lewis). But, due to her unstable condition, people find it hard to believe her.
This show has a beautiful script and a very talented cast, making it very intriguing.
20. Arrow
IMDb Ratings: 7.8/10 (336,755)
Cast: Stephen Amell, Katie Cassidy, David Ramsey, Emily Bett Rickards, Paul Blackthorne.
Storyline: A billionaire playboy, Oliver Queen, and his father are presumed dead after their yacht goes missing in the sea. Unfortunately, his father dies, but Oliver survives on a deserted island, "Lian Yu." After five years, he returns home as a changed man with only one goal: "to save his city."
Based on the famous DC comic "Green Arrow," Arrow is one of the best action-based tv series I have watched. If you are an action lover (who isn't?), then you will like this very much. A billionaire playboy, Oliver Queen, gets lost on a boat with his father and is presumed dead. After five years, he returns home as a changed man and fights crime in his city with a bow.
It is an action-packed version of its comic with excellent storytelling in both present times and flashbacks of the past about how the billionaire playboy turns into a hooded vigilante. The series is perfect, with a talented cast and great action scenes.
21. The Flash
IMDb Ratings: 8.1/10 (224,712)
Cast: Grant Gustin, Candice Patton, Danielle Panabaker, Carlos Valdes, Tom Cavanagh.
Storyline: A forensic scientist, Barry Allen, works at CCPD. One day he gets struck by a lightning bolt due to an accident in Star Labs particle accelerator. Coming out of a coma nine months later, he finds he can move at superhuman speed. But he isn't the only one with superhuman abilities in his city. With the help of his friends at Star Labs, he must use his power to fight crimes and metahumans to save his city.
It is also another tv show based on DC's comic "The Flash," which airs on the CW network. If you have read or know about The Flash character, you know he is a metahuman who can move quickly. Even before this series was made, the Flash was a viral character, making the series famous.
Grant Gustin did an outstanding job portraying The Flash character. The storytelling, the action scenes, and the portrayal of characters are excellent. The only thing that bothered me was the VFX. In some action shots, you can notice the poor job done by the CG team. Otherwise, it is a good and one of the best tv series I have watched, and if you are a Flash fan, you will like it.
Now this list is entirely based on my opinion. What do you think? Do you know any better tv series that deserves to be on this list? Let us know in the comment section down below.