Best Financial Apps You Need to Install Right Now To Improve Your Financial Health
We all know that managing our finances can be quite a challenge.
We all know that managing our finances can be quite a challenge. But with the rise of technology, we now have access to many financial apps that can help us keep track of our spending, saving, and investing. Here are some of the most essential financial apps that you should consider using:
Jupiter Financial is an app that provides users various financial services, including equipment financing, working capital, and money management. The app is available on both Google Play and the App Store and offers features such as tracking expenses, paying bills, saving for goals, and investing and growing money.
It also provides users a debit card with 1% rewards on purchases, bank-grade security, and ISO and PCI-compliant features. Additionally, users can send money via UPI and have their money insured up to Rs. 5 Lakh with no minimum balance or annual charges. Download the Jupiter app and open your account in just 3 minutes.
Fi is a financial app that tracks your expenses. With the help of this app, you can open a bank account in a few minutes. You will get all your spending across accounts in one app. You can reward with your "Fi" coins. In this app, you'll get returns of up to 9%. You can also connect all your other banks to this app. This app gives you a free Visa Platinum Debit Card. This app is used by 25 lakh Indians for a good reason, for savings, investing, and tracking all my expenses.
It gives you access to an RBI-licensed Federal Bank savings account & offers multiple investment options. Plus, you can connect all your existing bank accounts and track your balances and spending on Fi. Give it a try. Download the Fi app.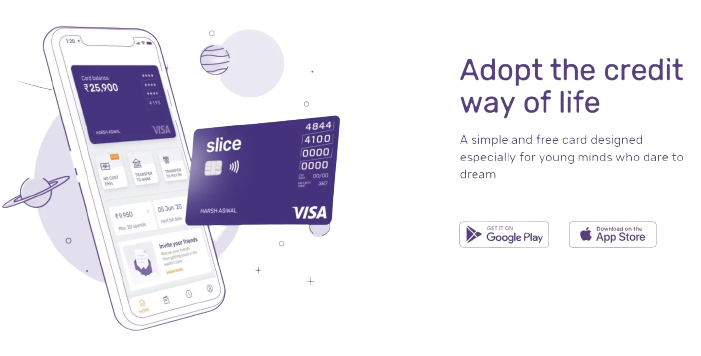 Slice is a financial app providing users instant cashback at their favorite stores, websites, and apps. It is easy to use and apply to slice card transactions instantly. Users must select an available spark in their app and then use their slice card to pay. Slice also offers the ability to convert payments into Equated Monthly Installments (EMIs) without any added expense.
With Slice UPI, send money to friends instantly or borrow whenever you want. You can save interest by paying early. Get instant cashback of up to 2% with slice spark on all card spends. Install the Slice app.
CRED is a fintech startup that rewards customers using its platform to pay their credit card bills. It also rewards timely offers and discounts on shopping, health services, and other sites, enabling customers to ensure and benefit from creditworthiness. When you pay your credit card bills, win up to Rs.1000 cashback.
CRED manages multiple credit cards. You can also pay house rent and education fees too. And it detects all your hidden charges.
As users continue to pay bills, they accumulate CRED coins which they can redeem for rewards. CRED also lets users make their house rent payments and avail of all the benefits of the app's short-term credit lines. Download the CRED app.
Groww is an online financial platform that enables users to open a free Demat account and trade listed stocks on the stock market at a low brokerage rate. It also provides access to mutual funds, US stocks, and other financial products.
Users can access their accounts, transact, and customize their views through the app. The Grow Financial, mobile banking app also pairs with the Grow CardManager app, allowing users to access features such as card controls and other convenient services. Download Groww.
PhonePe is a digital and wallet-based payments app operating in the UPI fintech industry. It is available in 11 Indian languages and is a safe and secure app that meets all payment, investment, mutual funds, insurance, and banking needs.
It allows users to send and receive money, recharge mobile, DTH, and data cards, make utility payments, pay at shops, invest in tax-saving and liquid funds, and buy insurance, mutual funds, and gold and silver. Download Phonepe now!
WazirX is a financial app that allows users to buy, sell, and trade over 200 cryptocurrencies. It is the largest Bitcoin and cryptocurrency exchange platform. It also offers a WRX Mining feature that allows users to unlock and earn up to 10,000 WRX Coins daily. Additionally, users can take advantage of the WazirX Referral Program to earn money.
Use WazirX for the best crypto exchange features: buy crypto within seconds, zero P2P fee, 50% referral rewards, and more! Hurry, sign up by Installing the WazirX app.
In conclusion, financial apps can be a great tool to help you manage your money. Whether you want to track your expenses, invest in your spare change, or plan for retirement, an app can help you achieve your financial goals. So, take advantage of these apps and start taking control of your finances today!